Melbourne is the coastal capital of the southeastern Australian state of Victoria. At the city's centre is the modern Federation Square development, with plazas, bars, and restaurants by the Yarra River. In the Southbank area, the Melbourne Arts Precinct is the site of Arts Centre Melbourne – a performing arts complex – and the National Gallery of Victoria, with Australian and indigenous art.
Melbourne is the capital city of Victoria, and Australia's second-largest city. Focused around a central city, Greater Melbourne's area of approximately 9992.5 km and has a population of around 4.96 million. As the second largest city in Australia, Melbourne prides itself on a multicultural heritage with residents from almost every part of the world. Itsdiversity and rich heritage can be experienced through the city's sports, artistic, social and religious life. Melbourne is one of the favored destinations for overseas students with an international reputation for the highest standards of education and training.
Often called Australia's cultural capital, Melbourne is home to the attractions that make the Australian lifestyle so appealing. Melbourne's rank as the 10th best city in the world for 'employer activity' makes it an even more attractive destination.
Melbourne is among the world's most livable cities Again and again, Melbourne is named among the world's most livable cities. The title is awarded to the city with the highest score for stability, healthcare, culture and environment, education and infrastructure. When you study in Melbourne, you will be living in a safe amd vibrant city that offers world-class study options, services and the widest range of things to do.
Accommodation, whether in a share house or on-campus student lodgings, will almost always be the largest and least negotiable expense for an international student.
In Melbourne, share house rent can range anywhere from $120 to $300 per week. Generally, the cheaper the cost the further away from the city you'll be, the more people you'll be living with, or the more rundown the accommodation will be.
There are a number of accommodation options available for students:
For many students who are away from home for the first time, this choice of accommodation provides a good way to learn about the Australian lifestyle and customs while living in a family environment. Homestays approximately cost AUD $235 to AUD $325 per week and include all meals.
where students can rent a property either alone or shared with other people. Sharing the accommodation costs reduces the cost of renting. You can rent either furnished or unfurnished houses or apartments. Rent varies depending on whether you share or live alone. It can be from $100 to $400 per week. Student Services can advise regarding rental options.
Student Housing Australia:
http://www.s-h-a.com.au
Student Share Accommodation:
http://www.find-studentaccommodation.com
Short term hostel or hotel accommodation:
This is suitable when students need somewhere to stay on a short term basis while arranging their long terms accommodation needs.
The Australian Government specifies AUD $20,290 as the minimum amount required to cover living costs for a 12-month period.
This figure excludes tuition fees or the cost of travel to and from Australia. It is the minimum required to pay accommodation, commute to school or university, buy food, have fun, and pay for all the little extras that you need day-to-day.
12 months living cost is approximately:
You - $20,290
Partner or spouse - $7,100
Child - $3,040

For further details please visit:
https://www.studyinaustralia.gov.au/english/live-in-australia/living-costs
Melbourne has a temperate climate with cold winters and hot summers.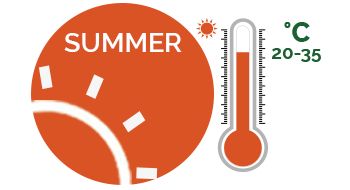 SUMMER
December - February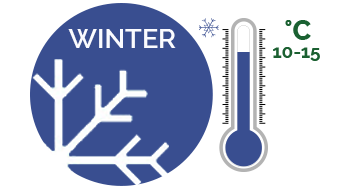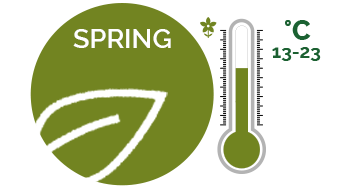 SPRING
September - November